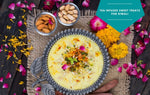 Diwali! It's the season for cheer all over the country and for the Indian diaspora living in different countries. No celebration is complete without some sweets! They bring out the metaphorical light in our lives. 
Not only do we want to serve delicious goodies, but we also want to keep it easy and quick, but without compromising on flavour. While it does seem a challenging task, especially when you're handling four things together in this new normal, don't worry, we have your back. Here are 4 sweet tea treats, made quick and easy with Karma Kettle tea blends. These sweet or mithai recipes are not only easy to make at home but will be a super hit at your home this Diwali festival celebration or Diwali party. These sweets can also be prepared a bit before and can be given in form of gifts or mithai boxes to your family and friends. Isn't that amazing?
Barfi is a very popular Diwali sweet and can be made in less than 30 minutes. A chocolatey twist to this popular recipe with Maya, our chocolate tea, the recipe includes ingredients that are easily available. Check the recipe out now.
When Karma Kettle paan chai meets this traditional Indian sweet, you get paan laddoo, a mouth-watering sweet that can be paired with tea and served to friends and family to round off a heavy meal. Try this recipe now.
 We have all grown up eating and loving the delicious Badam Halwa. You are bound to love this exciting twist to the classic Indian dessert infused with our bestselling blend, Gulmarg (Kashmiri Kahwa). This can even be made during family gatherings in the evening.
This easy and yummy Matcha cake is all you need for a healthy dessert this festive season. All you need to do is add 1.5 tbsp Karma Kettle Stoneground Matcha to your regular cake recipe and voila, you have this delicious Matcha cake that can be served with tea!
These gorgeous desserts also look pretty on the Instagram feed. Don't forget to share and tag us!