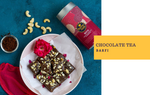 Ingredients:
1 cup (100 g) milk powder

1 cup (100 g) cashew powder

1/4 cup (60 ml) ghee/clarified butter

1/4 cup (120 ml) milk

1/3 cup (40 g) sugar

5-6 cashews (roughly chopped)

1 tablespoon cocoa powder

1/4 cup (120 ml) Maya chocolate tea
Method:
Take a pan and add ghee over a medium flame. Once it melts completely, add room temperature milk and let it cook for a couple of minutes.
While stirring continuously, add milk powder in batches.
Cook for 3-4 minutes until the mixture begins to thicken. Add sugar, Maya chocolate tea and cocoa powder. 
Cook for 2 minutes and add cashew powder in it and mix it well. 
After some time, the mixture will begin to thicken and will separate from the pan. Once it forms into a ball-like structure, switch off the flame.
Pour the milk powder barfi mixture in the greased tray and evenly spread it with the help of a spatula. 
Garnish with some chopped cashews. 
Let it set for an hour before cutting them into square shapes. You can store in the refrigerator for 8-10 days.