Tea Tales — drinks
One of the most loved and widely celebrated festivals across the country, Holi, is the festival of color. It is during the day that people take to the streets and rooftops armed with coloured powders, liquid colors, water balloons, and water guns to play with their friends and family. If you're outside your house, you can expect to get drenched and showered with colors! Everyone is fair game because as the saying goes 'Bura na maano Holi hai!' A major aspect of the celebrations is the delicious food and drinks that are prepared for all. We've all grown up indulging...
---
Karma Kettle

Tags:

2021, appetizer, blogpost, blogstyle, Chai, delicious, Dessert, drinks, family, feast, food, foodgasm, foodpics, foodporn, funtime, instafood, instagramblog, karma kettle, Main Course, new year, new year party, new year's eve, recipeblog, recipes, relax, tea, Tea recipes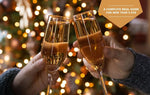 Bottles of champagne are popped all around the world on New Year's Eve, but it also involves eating wonderful food because New Year's Eve means a meal full of culinary bling. With a fresh New Year approaching in just a few days, it's that time of the year again to enjoy a wholesome feast with your friends & family and laugh your heart out! To get the flavor of exquisite cuisines this New Year's eve, go through these curated recipes below and make a scrumptious feast!   Refreshments Start the party with these refreshers that are sure to impress any...
Recent Articles
Categories