Tea Tales — matcha green tea
Our bodies are accustomed to absorbing energy from food throughout the day. Hence, it's normal to experience some discomfort during the initial days of intermittent fasting.  Drinking tea can help ease these symptoms, as your body starts to adjust to the fasting period.  Tea can help you ease into fasting by reducing some of the common side effects and changing your eating habits. By decreasing ghrelin levels, tea can help block the hunger hormones, effectively stopping the pangs. Here are the types of teas that can help you on your weight loss journey:  Hibiscus Tea Hibiscus tea can aid in natural...
---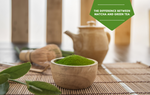 Admit it, we all love scrolling through Instagram and watching those aesthetic matcha reels, but we still have no clue how it differs from the typical green tea. However, matcha is in fact very different from green tea. They have different flavours, cultivation methods and health benefits. The only similarity that they have is that they both come from the same Camellia Sinensis plant.  Palate-Green tea usually has a mild and subtle flavour. It is extremely refreshing and based on how it is processed and what condiments have been added, it can have floral, fruity or grassy notes. On the...
---
Banana, papaya, cucumber, honey, aloe vera, curd, lemon, multani mitti - the list is endless, but women have relied on a combination of these fresh ingredients for thousands of years as part of their beauty and skincare rituals. This year, we recommend adding one more super ingredient to this list: matcha! So, what's the big deal about this bright green tea powder?   What's makes matcha a superfood Matcha tea is an antioxidant powerhouse and helps boost metabolism. Farmers grow matcha by covering their tea plants 20–30 days before harvest to avoid direct sunlight. This increases chlorophyll production, boosts the amino...
Recent Articles
Categories