Tea Tales — lifestyle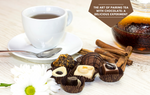 Culinary pairings are wonderful. Much like the very popular combination of wine and cheese, tea too can be paired with a number of foods to make for a delicious, satiating combination. It's only natural that our undying love for the drink makes us explore newer ways for us to enjoy it. Although there are many foods that can go with tea, cheese included, tea and chocolate really is something special! When experimenting with different flavour profiles, it is crucial to understand the science behind the pairing. The key to understanding pairings is being mindful of the complex notes behind them,...
---
Black tea, when consumed with care, has been known to have a number of health benefits for the human body. It is a beverage that millions across the world have with regularity and they witness its benefits first-hand. But as is the case with all things in life, unless there is moderation, even a good thing can turn harmful for you and your body. Similarly, with Black tea, moderation is key. Black tea, like most teas, comes from the Camellia Sinensis plant. It is different however, because unlike Green Tea or Oolong, Black tea is fully oxidized. Meaning the tea...
---
The history of Rooibos tea, pronounced 'roy-bos' and also known as Red-bush is a rich and expansive one. It's rooted in and with the Khoisan people, a group of indigenous Bushmen, over three centuries ago! The Khoisan harvested the Aspalathus Linearis plant and used its leaves as herbal remedies to treat a wide variety of ailments. The drink made by the Bushmen was also widely popular because of its delightful taste. As the population of the tribes began to dwindle, so did the knowledge of the tree but a certain botanist who goes by the name- Carl Humberg rediscovered the...
Recent Articles
Categories