Tea Tales — summerblog
Karma Kettle

Tags:

blog, blogging, blogpost, blogs, blogstyle, guest blogs, herb garden, herbs, instagramblog, recipeblog, summerblog, tea blog, teablogs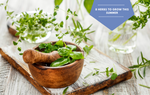 It doesn't matter if you're a newbie cook or a trained chef, if you cook, you know how important herbs are in the kitchen. In fact, even if you know nothing about cooking and are just a foodie you understand the significance of herbs in food. Fresh herbs are an amazing addition to dishes you prepare and can be used in a multitude of different ways including in drinks! But the hard part is procuring good quality herbs. This is why we recommend growing your own! Now you must be wondering if growing your own herbs is even worth the...
---
The summer sun is shining bright and there's hours and hours of warmth and daylight to revel in before the evening gloom sets in. A perfect way to spend your Sunday afternoon is to plan a simple, relaxing picnic with your friends or family. Of course, you could just book a table for 8 at the restaurant you frequent on weekends but why not try something a little different for once? After all, we're all about new and exciting experiences and there's something really joyful about sitting in the bright sunlight with your favourite people and munching on some delightful...
---
Karma Kettle

Tags:

blogging, blogpost, blogs, blogstyle, guest blogs, instagramblog, recipeblog, summer, summerblog, tea blog, teablogs
You know its peak summer season in India when the sun's blazing, temperatures are soaring higher than ever, the cotton shirt you're wearing is plastered to your back, and your hair looks like you have just stepped out of the shower. Why then, despite the heat, humidity, and sweat do people still love summers? Well, it turns out there's more to summers than just that. Summers bring with it a bunch of things we love! Fresh, juicy fruits Three words- lychee, mangoes, and watermelons. Need we say more? Some of the very best tropical fruits are available in India during...
Recent Articles
Categories