Tea Tales — chilli chai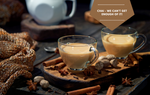 In India, chai is more significant than only a cup of tea to begin the day - the thick sweet drink is a crucial part of every Indian's life. When you stroll around an Indian neighbourhood, you will discover innumerable chaiwallahs (tea sellers) steaming up a warm Masala Chai for their customers.  Indians drink approximately 837,000 tonnes of tea yearly, making it the country's most famous and loved beverage. It has been documented that tea in India was firstly used for medicinal purposes back in 500 B.C, and later the culture of drinking tea was made famous by the Britishers....
---
As the monsoon rains and breeze slowly wash away the sweltering heat of the Indian summers, a number of viruses and infections too come out to play. Dealing with this small downside of monsoons and enjoying the beautiful weather sitting at your windowsill with onion pakoras can both be done by a simple, delicious solution- chai!  So here's a list of delicious teas that are a must-try this monsoon season for all you chai lovers out there! Benares- First on the list is a blend of organic Assam black tea and an array of spices such as cinnamon, cardamom, ginger,...
Recent Articles
Categories