Tea Tales — relax
Indian summers are long and sweltering. It's Mid-April and temperatures are already soaring high. A change of season should ideally elicit a change of routines and habits from you as well. The hot, sticky weather can act as a deterrent from exercise for a lot of people. This along with other seasonal changes can make it very hard to stay fit during summers. But worry not! We have five simple changes you can make to your lifestyle to help you stay healthier during this hot season. Hydrate regularly and properly: Although hydration is always important, it's even more important during...
---
Karma Kettle

Tags:

2021, appetizer, blogpost, blogstyle, Chai, delicious, Dessert, drinks, family, feast, food, foodgasm, foodpics, foodporn, funtime, instafood, instagramblog, karma kettle, Main Course, new year, new year party, new year's eve, recipeblog, recipes, relax, tea, Tea recipes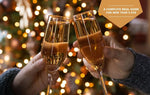 Bottles of champagne are popped all around the world on New Year's Eve, but it also involves eating wonderful food because New Year's Eve means a meal full of culinary bling. With a fresh New Year approaching in just a few days, it's that time of the year again to enjoy a wholesome feast with your friends & family and laugh your heart out! To get the flavor of exquisite cuisines this New Year's eve, go through these curated recipes below and make a scrumptious feast!   Refreshments Start the party with these refreshers that are sure to impress any...
Recent Articles
Categories