Tea Tales — Loose Leaf Tea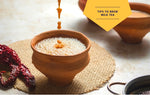 Consuming green tea without the addition of milk or sugar has plenty of benefits, however, milk tea isn't far behind if you brew it right.  Picking a Tea Camp We have travelled far and wide to study tea drinking habits and pick the best ingredients to blend our teas. And what have we learned on our journeys? There are two types of tea drinkers in this world: those who love their tea blends sans milk and the other half, who cannot imagine tea without milk! Research has shown the benefits of drinking green tea everyday. So are milk teas...
---
Our Mother's Day tea collection features 6 travel-inspired teas and a limited edition gift box that will transport the most special women in our lives to mystical and unique travel destinations across India. Mother's Day Memories Mother's Day always takes us back to our childhood, to some of our earliest memories with our moms. And food has been such an integral part of these moments! We loved tasting chocolates and juices, threw a fit before gulping down garam doodh, and felt like a grown up when we got to sip our first cup of chai. Through all this masti, our mothers have been our...
---
For someone just getting into the world of tea, it can feel like…a lot. The multitudes of varietals, methods of brewing, drinking practices, storage and the list goes on. Very intimidating right? But it doesn't have to be. The beauty of tea lies in its simplicity. All you need to do is brew yourself a cup, sit down by the window and enjoy! The rest will become clearer with time. The following is a list of tea accessories that you should acquire for loose leaf teas, that will make the entire process smoother and enjoyable.    Tea infuser - An...
Recent Articles
Categories