Tea Tales — blue lagoon
As the monsoon rains and breeze slowly wash away the sweltering heat of the Indian summers, a number of viruses and infections too come out to play. Dealing with this small downside of monsoons and enjoying the beautiful weather sitting at your windowsill with onion pakoras can both be done by a simple, delicious solution- chai!  So here's a list of delicious teas that are a must-try this monsoon season for all you chai lovers out there! Benares- First on the list is a blend of organic Assam black tea and an array of spices such as cinnamon, cardamom, ginger,...
---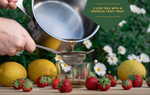 Swap out the sugar-heavy beverages and plain old, cold water for some refreshing fruit iced teas brewed especially for the hot summer months of India. Nostalgia for Grandma's Aam Panna Our grandmothers knew the secret to keeping children and adults in the household satiated during the hot summer months of India. They would source seasonal fruits from the local market, pick fresh herbs right from their kitchen gardens, and select spices that would be crushed in stone mortars to prepare healthy beverages that would quench our thirst. We kept coming back for more glasses due to the refreshing, sweet, and...
Recent Articles
Categories