Tea Tales — skincare
The history of Rooibos tea, pronounced 'roy-bos' and also known as Red-bush is a rich and expansive one. It's rooted in and with the Khoisan people, a group of indigenous Bushmen, over three centuries ago! The Khoisan harvested the Aspalathus Linearis plant and used its leaves as herbal remedies to treat a wide variety of ailments. The drink made by the Bushmen was also widely popular because of its delightful taste. As the population of the tribes began to dwindle, so did the knowledge of the tree but a certain botanist who goes by the name- Carl Humberg rediscovered the...
---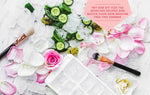 Who says that the only way to get dewy fresh skin is by drinking green tea! Our iced tea fruit blends will sort out your summer CTS (cleanse-tone-scrub) routine in under 5 minutes. The importance of fresh fruits in our diet is known to us. From oranges to watermelons, each of them comes with several unique benefits as they are packed with essential nutrients, vitamins and antioxidants to keep us healthy. While tea is a delightful refresher for our senses, it has benefits for the skin as well.  The combination of tea and fruits can do wonders for the skin....
Recent Articles
Categories