Tea Tales — Festival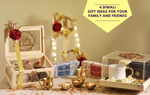 Diwali is that time of the year when family, friends, and dear ones, get together and celebrate the festival.
---
Diwali or Dipawali is one of the biggest and most important holidays in the Indian calendar year. The festival gets its name from the array (vali) of clay lamps (deepa) that are lit and placed outside homes.
Recent Articles
Categories