Tea Tales — tea blending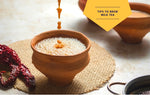 Consuming green tea without the addition of milk or sugar has plenty of benefits, however, milk tea isn't far behind if you brew it right.  Picking a Tea Camp We have travelled far and wide to study tea drinking habits and pick the best ingredients to blend our teas. And what have we learned on our journeys? There are two types of tea drinkers in this world: those who love their tea blends sans milk and the other half, who cannot imagine tea without milk! Research has shown the benefits of drinking green tea everyday. So are milk teas...
---
Organic teas are cultivated using zero chemicals or pesticides, giving you a tea experience that is super refreshing and great for the planet as well.   It's highly likely that since you clicked on a link that says 'organic,' you may already be an organic foods enthusiast who buys organic vegetables and fruits from your friendly neighborhood organic store. Even if you aren't an organic-convert yet, chances are you may be aware of the benefits of organic produce. At its most basic, organic produce is cultivated without the use of any chemicals or harmful pesticides, giving you fruits, vegetables, daily...
---
Most of us start our days with a hot cup of tea. This beverage is an inherently important part of our lives, especially if you're from India. But how much do we truly know about the story of how these leaves make their way from a tea estate into our kitchen cabinets? Let's explore the journey of a cup of tea.
Recent Articles
Categories