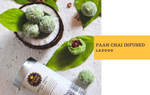 INGREDIENTS
For Laddoo
1 cup of water
1 tbsp Paan Chai tea 
2 cups of desiccated coconut
1/2 cup of condensed milk
A pinch of green food colour
For Stuffing
1 tsp of fennel seed

2 tbsp Gulkand

4 half cut cherries

1 tbsp tutti frooti
 METHOD
Boil 1 cup of water and brew 1 tbsp of Paan Chai in it. Strain and keep it aside.
In a pan add 2 cups of desiccated coconut and dry roast it for 2 minutes. Make sure the flame is not too high, or else the coconut might burn.
Then add 1/2 cup of condensed milk, 1/2 cup of already prepped Paan Chai in the pan, and mix it well. Let it turn into a thick paste-like mixture but keep stirring it continuously.
Add a pinch of green colour for that perfect Paan Laddoo look and combine it together. While this mixture cools down, make the Ladoo stuffing.
Grease your palms and start making round flat open Ladoo and add the stuffing at the centre and close it again into round balls.
Coat the Laddoos with some desiccated coconut outside and enjoy.