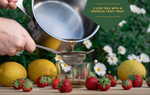 Swap out the sugar-heavy beverages and plain old, cold water for some refreshing fruit iced teas brewed especially for the hot summer months of India.
Nostalgia for Grandma's Aam Panna
Our grandmothers knew the secret to keeping children and adults in the household satiated during the hot summer months of India. They would source seasonal fruits from the local market, pick fresh herbs right from their kitchen gardens, and select spices that would be crushed in stone mortars to prepare healthy beverages that would quench our thirst. We kept coming back for more glasses due to the refreshing, sweet, and tantalizing taste of these cool drinks. Who can forget the tangy delight of khatta aam panna, the salty sweetness of nimbu sherbet (and the thwack sound our tongues would make when it was too tart), or the luscious creamy concoction of fresh strawberry shakes and our milky moustaches. Fun, right? Well, those days haven't disappeared altogether!
What Happens During Summers
Summers in the Indian subcontinent are scorching hot. Apart from general tiredness, fatigue and sweat, the hot and humid summers can have serious health implications for people. Heat leads to dehydration, clammy skin, headache and dizziness, and sometimes cramps, nausea and palpitations. The best way to counteract the debilitating effect of the summer sun is to drink lots of water throughout the day, move to a shaded area or stay indoors, take a cool water bath twice a day, wear breathable fabric, and sip cooling beverages such as iced teas and cold brews. Iced teas, which are packed with fruits and herbs, especially help replenish the electrolytes in the body, which get depleted due to excessive sweating. 
Iced Teas to Keep You Cool
This summer, we recommend swapping the sugar-laden beverages and straight-from-the-fridge cold water with some delicious, refreshing iced teas that are brewed especially for the hot summer months of India! The teas are blended using 100% natural flavourings and come loaded with the goodness of fruits, flowers, herbs, and special ingredients. Bonus? Our iced teas are vegan and a cup of tea has less than 10 calories, so that's guilt-free indulgence waiting for you. Though there is no fixed time to consume iced teas, we recommend having them between your meals, which means, after breakfast, lunch or in the late evenings.
Here are 5 of our favourite chilled summertime teas:
Remember spending all afternoon playing cricket, riding bicycles and gulping down glass after glass of aam panna? This nostalgia-inducing take on the traditional aam panna will replenish you and leave your taste buds wanting more. Mango, featured in our Aam Panna green tea blend, is packed with vitamin C, which is vital for the growth, development and repair of all body tissues. Bursting with the flavours and sweetness of juicy mangoes and just the right amount of tanginess, it's a must-try this year. Learn more.
2. Black Tea with Passion Fruit
Picture this. You're lying in a hammock under the shade of tall trees. You reach out with your hand below you and feel the warm sand. There's a gentle breeze. That's how each sip of our Passionately black tea feels like. This delightful combination of Assam black tea and passion fruit possesses a sweet tropical flavour and brews to a beautiful golden amber. Passion fruit is a rich source of antioxidants and fiber and is known to reduce anxiety. A perfect evening tea time treat. Learn more.
3. Butterfly Pea Flower with Lemongrass
This awesome blend is packed with citrus flavours and energizing aromas from lemongrass and kaffir lime. Butterfly pea flower, popular for its striking blue and indigo colour, is particularly known for being a stress buster and a calming agent. Squeeze a drop or two of lemon for added flavour and watch as the colour changes from blue to indigo! Learn more.
4. Hibiscus Tea with Strawberries
This striking ruby-coloured cup of tea is loaded with jammy flavours. If you have a sweet tooth, this is a delicious way to soothe your sugar cravings in a healthy way. Strawberries, which come with the goodness of vitamins, fiber, and high levels of antioxidants and have the bonus benefits of being a low-calorie food. The tart, crispy finish of the iced tea along with the notes of hibiscus and cockscomb make it a great summertime cooling beverage. Learn more.
Finally on the list is this exotic, herbal tea - yes, that's right, it's caffeine free - that will take you to the grasslands of Africa. Earthy, woody notes of rooibos (a bush native to South Africa) work in tandem with the spicy notes of cinnamon and nutmeg to create a drink that packs an invigorating punch. Rooibos is loaded with antioxidants that helps protect the heart, slows down cell damage, and is touted by some experts as a mood enhancer. The presence of apple adds another dimension of flavour to round off a fantastic iced drink for summertime. Learn more.
Additional Information About Iced Teas
The fruit teas are vegan, low calorie, made using nutritious fruits, flowers, herbs, and spices, as well as 100% natural flavouring. 
Brewing tips for iced tea:
Steep the tea bag in boiled water for at least 5 minutes before pouring into a cocktail shaker. Add 4-5 ice cubes and shake well. Pour out to enjoy. For a stronger brew, use 2 tea bags to one cup.
Brewing tips for cold brew:
Steep the tea bag in room temperature water for 2 hours. Transfer the tea bag and brew to the refrigerator for at least 4-6 hours. Pour into a tall glass and enjoy your low caffeine cold brew tea!