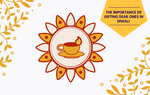 Gifting has always been a unique way of reaching out and acknowledging your near and dear ones, for their presence in your life. Our colleagues, neighbours, acquaintances, friends, cousins and family form this circle of mutual appreciation and what better way than a festival like Diwali, to light up their faces with brightest of smiles.
Here's remembering all the special ways of adding that extra warmth and personal touch to your Diwali gifting list:
Just add appreciation: Our employees are the driving force of our teams, without their conviction and hard work your targets will always remain unachievable. A Connoisseur's Collection Gift Box with a handwritten note mentioning why are they such a valuable asset to the team will always add that extra teaspoon of joy in their lives.
Just add gratitude: Elders have lived to this day to watch us become a person in our own right. The festival of Diwali most certainly demands that we let them know how grateful we are for their selfless and love and care. A DVD collection of their favourite movies accompanied by a box of Meditation In My Teacup from our wellness collection is a great gifting option for these old gems.
Just add memories: Our neighbourhood friends have been our most erstwhile audience watching us skin our knees while playing on the streets, celebrating festivals together, watching us grow up and go our ways. A furnishing item to adorn their living space and a box of Artisan's Choice Gift Box is a classic choice for these genuine well-wishers.
Just add fun: Siblings and our cousins are an extension of who we are, they are our secret-keepers, our friend-in-needs and our constant among variables. To honour this unconditional bond of friendship and warmth, a lovely get together could be organized with all your favourite childhood items on the menu and a  Fruitea Iced Tea Collection as a refreshing parting gift.
Just add love: To that partner who has been your sword, your shield and your armour thanking them would never be enough. A special date followed with a Southern Scapes Gift Box would add a unique touch to your Diwali, just like your partner.