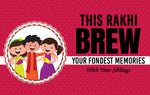 Brothers have always been an extension of who you are. They are a reflection of your parents, they are your protectors from harm, keeper of secrets, partners in mischiefs, and companion when your skies are blue and most importantly, they love to poke fun at your expense. If you are the sister, you have surely gone through your fair share of being annoyed endlessly and receiving harmless blackmails that you later remember fondly. This Raksha Bandhan, we remember why brothers are the most adorable humans in your life.
Brothers in arms: There is nothing like learning the art of wrestling like a pro from your brother. Looking back, all those wrestling matches have made you capable of defending yourself in times of crisis.
Permission granter: Whether it is getting you permission for sleepovers, tagging you along on their dates or covering for you when you when you go out on yours, nobody saves you from a sticky situation like your brother would.
Hand-me-everything: You actually get to acquire their favourite figurines, their cooler playlists, their oversized jumpers and sweaters and most importantly their undivided attention.
Your personal superhero: It doesn't matter if you are the elder or the younger one, your brother will always be on the lookout for you and fight your battles. Whether it is standing up to a bully or taking your side against the whole world, your brother will always be your sword, your shield and your amour.
Pamper person: Sisters always hold the fondest spot in every brother's heart. As a caregiver, they will always ensure you get what your heart desires. No matter how far your work takes you, brothers don't miss any birthday or any Rakhi to make to make it special for their sisters.
As your first friend in life, they have made your first rainy day, first summer holiday and every first festival all the more special. Even as you grow older, there is nothing like catching up on each other's lives over a cup of hot brewed tea and reminisce a childhood full of loving memories.
To let your brother know how much you appreciate their warmth in your life, send them customized gifts boxes from karmakettle.com.