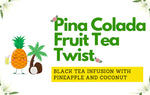 Summers and refreshments have had a happy marriage since ages and we at Karma Kettle have yet again got you covered with our latest summer drink on the block. Pina Colada- an infusion of black tea with juicy pineapple and coconut bits lend a perfect combination of sweet and refreshing. This iced tea is surely going to steal your tropical thunder.
All You Need To Know About Pina Colada:
The black tea brew comes in a silken Japanese pyramid tea bag which ensures maximum infusion of the tea leaves and quality retention.
Pina colada is more than just a lip-smacking thirst quencher, the resilient black tea stimulates your metabolism and keeps diabetes at bay.
The mighty coconut improves the immune system and digestion.
The erstwhile pineapple helps in providing high amounts of protein and carbohydrates.
Since tea culture has been a deep-rooted practice in India, new blends and infusions of enjoying tea and fruits together have always been of the brink of improvisations and discoveries.
So, if you are a Tea-Totaller, pun intended, and if you have been yearning for a tropical vacation amidst the scorching heat, then surely don't forget to buy pina colada black tea online at karmakettle.com, or pay a visit to our tea-rooms at Swinhoe Street and Alipore, Kolkata, and escape into your island fantasies with every sip.