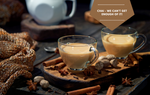 In India, chai is more significant than only a cup of tea to begin the day - the thick sweet drink is a crucial part of every Indian's life. When you stroll around an Indian neighbourhood, you will discover innumerable chaiwallahs (tea sellers) steaming up a warm Masala Chai for their customers. 
Indians drink approximately 837,000 tonnes of tea yearly, making it the country's most famous and loved beverage.
It has been documented that tea in India was firstly used for medicinal purposes back in 500 B.C, and later the culture of drinking tea was made famous by the Britishers. They introduced Indians to consuming black tea with milk and sugar, and later, Indians altered this recipe by including spices to create the ever-famous Masala Chai.
The Ideal Companion - 
Tea is considered to be the perfect companion for all. It's the ideal way to enjoy a rainy day, you can make a comforting cup on a wintry weather morning, or even a calming drink on a warm summertime afternoon. 
Tea is thought to stimulate the senses and refresh your thoughts and the body; therefore people drink tea before going to important and stressful meetings, or when one is having a terrible day to make the day better.
Perfect Choice for Social Gatherings - 
In a country where guests are considered a manifestation of God, tea is the perfect way to greet guests at home along with some hot snacks. Drinking tea has turned out to be a crucial part of a social gathering and it builds connections like no other form of food or drink.
Conversation Starter - 
Whether you're on a date, meeting your friends for a quick chit chat or with your office colleagues for a tea time break, chai always seems to break the ice and help people communicate better. In fact, tea-time has been associated with the idea of stopping every activity to take a moment to sip a cup of chai and have a small chat.
Relax & Rejuvenate - 
Tea has calming properties, it is the best beverage to relax and rejuvenate. Different varieties of teas have numerous benefits.  Tea has usually been a life-saver from headaches, certain teas additionally act as an antidepressant and decrease tension.
Explore some of our curated Chai Blends! 
Benares

(Organic Masala Chai) - Staying true to its name, our signature organic masala chai blend will transport you to the busy streets of Benares! Organic Assam black tea is blended with an array of spices (cinnamon, cardamom, ginger, and cloves) to create a bold organic infusion that is full of flavour.

Organic Chilli Chai

- It is an exotic spin on chai with the inclusion of Thai spices such as lemongrass, pandan leaf, kaffir lime, and chilli. The Chilli Chai's aroma features oriental spices and coconut and has a nice chilli kick at the end.

Organic Ayurvedic Chai With Ashwagandha And Brahmi

-It is a robust black masala tea, perfectly paired with earthy herbs and spices. It's packed with the goodness of organic tulsi, ginger and turmeric.

Organic Cutting Chai Tea

- A robust and rich cup steeped in aromas and flavours, our authentic Bombay Cutting Chai features certified organic black tea with organic cardamom and spices. 

Organic Sulaimani Chai

- Our organic Sulaimani Chai is a special green tea version of the very popular Malabar spiced chai and includes cardamom, pepper, cloves, and spearmint.

Nolen Gur Cha

- Our signature blend pays tribute to Kolkata with a delightful combination of black tea, Bengal's much-loved palm jaggery (Nolen Gur) and premium dates. 

Lebu Cha

- Lebu Cha releases an energizing citrus aroma of Bengal lime and brews to a robust cup with overall citrus tones.

Paan Chai

- An unusual combination of premium CTC leaves with betel leaves (paan) and assorted Indian spices to create an absolutely refreshing chai infusion that will delight your senses.
Add some spice to your life with Karma Kettle's collection of chais.