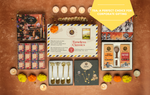 Once in a while, you would want to thank your employees or congratulate a client on their achievement. The ideal way to do it is through corporate gifting.
In this guide, we'll take you through the essentials of corporate gifting in detail, and share our advice on how to manage corporate gifts in 2022.
Personalise your gifts - A personalised gift makes a powerful impression on the recipient and says a lot about the gift giver. It establishes a connection and celebrates the bond.
Do not insert promotions - Corporate gift-giving is mostly done to express gratitude to your staff and to show that you care. Avoid turning it into a marketing ploy.
Choose the correct gift - Corporate gift-giving is more challenging than personal gift-giving because of the numerous rules that are involved. You want to personalise and innovate with your gifts, but the gift also needs to be suitable for a professional setting.
Tea - The Perfect Corporate Gift
Tea is not just simply black tea or green tea anymore. The marketplace is packed with particular blends and flavoured teas like herbal tea, fruit tea, wellness tea, etc. This may be an innovative corporate gifting option.


Packed in elegant, beautiful gift boxes and loaded with calming flavours, tea is a highly valued present. Gifting your employees a special tea box is an excellent way to appreciate them and encourage them towards a healthier lifestyle.


Choosing gifts for your clients or employees isn't always easy. No matter what you present, ensure that the employees can use it rather than leaving it unused. Tea, in that case, is the perfect gift for all as everybody enjoys drinking tea and people love to try the new upcoming flavours all the time.

The clients and employees are bored with gifts like diaries, pens, coffee mugs, etc. Therefore, gifting exotic teas wrapped in a beautiful box is a whole new corporate gifting idea that they would enjoy having. 



Tea is consumed regularly, meaning that when the recipient drinks the tea, they get a reminder of your business and the beautiful gift that you had presented to them – which is beneficial for you, 

right?



The great thing about tea is that it is enjoyed and appreciated by both men and women,  making it a perfect unisex corporate gift.
As the working world changes, more and more companies are requesting to send gifts to their employees to encourage them and thank them for their hard work. 
If that applies to your business, you are in luck! You're sure to find something for your team with a wide variety of teas and teaware online. If you have a large team and would like to discuss a custom larger order, please drop a mail at marketing@karmakettle.com. We will contact you to discuss your options.