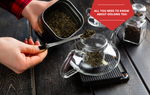 Origin
Oolong is a tea representing the true craftsmanship of horticulture and tea production. It is a semi-fermented tea, and hence cannot perfectly fall under the category of green tea or black tea. Its form, palate and fragrance vary depending on where it's grown and how the tea master processes it. Its origin is traced back to the lands of China and Taiwan, where it is cherished even today. Due to its texture and colour, it was earlier called "Black Dragon Tea", however, this name was later changed to oolong. The flavour of this tea can be sweet, light, woody and grassy.
Health benefits
Drinking oolong tea is excellent for the body as it is packed with several vitamins, minerals and antioxidants. It helps in reducing cholesterol levels, invigorates your body and is good for the skin. Oolong can be infused with a variety of ingredients and flavours to enhance your tea-drinking experience and soothe your body, mind and soul. Read on to find a list of some of our exquisite varieties of oolong tea.
Paris- Rose Oolong Tea
Our rose oolong tea is a tribute to the city of love-" Paris". Made with love, this aromatic blend is infused with crushed rose petals and rose buds. The mild fragrance of rose compounded with the complex flavours of oolong is perfect to lighten your mood and brighten your day. The antioxidants present in roses also aid in providing your skin with a beautiful glow. 
Formosa - Darjeeling Oolong Tea
Grown beneath the contour of Mount Kanchenjunga, this oolong tea is processed in Darjeeling. It has a mild tartness and a rich taste of fruit and earth. This heavenly blend is like a blessing in your teacup after a long and hectic day.

Seville- Oolong Tea with Orange and Spices
An alluring blend, consisting of the aroma of mandarin orange, coupled with the soothing flavour of oolong tea. In addition to this, Seville consists of an invigorating mixture of spices like cinnamon, cloves and cardamom. Every sip is a treat for your sensory organs with the light citrusy scent to please the nose and the taste of oolong and spices, to satisfy your taste buds. Come indulge in this wholesome experience!

Imperial Treasure
Imperial Treasure is an authentic variety of oolong imported from Taiwan. It is infused with Korean ginseng and blue cornflower, both ingredients having their respective benefits. Ginseng is known for reducing stress, and pain and enhancing the functioning of the brain whereas blue cornflower helps in digestion, reducing menstrual cramps and curing constipation. The best time to enjoy this mild-flavoured oolong is after a heavy meal!