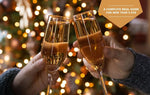 Bottles of champagne are popped all around the world on New Year's Eve, but it also involves eating wonderful food because New Year's Eve means a meal full of culinary bling. With a fresh New Year approaching in just a few days, it's that time of the year again to enjoy a wholesome feast with your friends & family and laugh your heart out!
To get the flavor of exquisite cuisines this New Year's eve, go through these curated recipes below and make a scrumptious feast!
Refreshments
Start the party with these refreshers that are sure to impress any guest. 'Tis the season to be jolly, and nothing else can get you in the mood like a fizzy, festive cocktail or mocktail.
 Cinnamon Rosemary Old Fashioned

Make this age-old classic and get a seasonal tune-up for the perfect holiday nightcap.
Peppermintinis


This peppermint cocktail will bring smiles to your guests!
Lemon Lavender Mocktini

Lavender is in the season so it's the right time to go snag a bundle and make this fragrant, refreshing and beautiful drink.
Appetizers
It's all about the epic spread of appetizers to eat all night long on New Year's Eve. There's no excuse not to treat yourself to something wonderful this New Year, whether you're celebrating large or small.
Cheese Fondue

We're keeping it retro and cheesy today. With this easy cheese fondue recipe, the possibilities are endless and oh-so-tasty!
Chicken Tacos

Chicken Tacos are the perfect EASY appetizers to make. These skillet made chicken tacos have lots of flavor and none of the stress.
Deviled Eggs

It's not a party without the classic deviled eggs! This classic deviled eggs recipe is great for all kinds of gatherings.
Hot Bakes
The best part about holiday baking is that it's one of the few times of year when calories don't count. Who's with me there? Here are some delicious recipes that will swoop your guests off their feet.
Cardamom, Orange and Chocolate Ribbon Cookies

Ribbon cookies, Rainbow cookies, Venetians, Neapolitan slices . . . whatever you call them, these delicious holiday treats are impressive and taste fabulous!
 Chilli Chai Infused Sourdough Bread

Make a balanced flavored Sourdough with a twist following this Chilli Chai infused Sourdough bread recipe.
Gingerbread Biscotti

Can there ever be enough gingerbread in the world? I think not. These spicy Italian cookies are the perfect accompaniment for cocoa or coffee during the holiday season!
Main Course
When it comes down to planning New Year's Eve's dinner, the main course has to be a showstopper. We've rounded up our favorite crowd-pleasing main courses that will be a hit this New Year.
Donald Link's Braised Chicken with Salami & Olives

This rich and indulgent chicken, salami and olive casserole dish is packed with flavour and incredibly warming for the heart!
Lebu Cha Infused Quinoa Salad

Make a refreshing, crisp and delicious Quinoa salad with some ultra flavorful Lebu cha seasoning!
Vanilla Matcha Wheat Flour Pasta with Toasted Walnuts


This simple wheat flour pasta is very colorful and yum on its own with no fancy ingredients at all.
Salmon with Orange Canton Sauce

Preparing this salmon dish is so easy that you will want to serve it all the time and not just on New Year's Eve. The beautiful Orange Canton Sauce makes it even more flavorful than the original classic recipe.
Desserts
Whether you're looking for something sweet or savory, we've compiled a list of some of the best dessert recipes to fulfill your cravings. They're delicious and simple to make too!
Blueberry Cream pie

This sweet, yet tart pie made with a creamy filling is always a big hit!
Vegan Raspberry Chocolate Ganache Tart

A rich and creamy raspberry chocolate ganache tart with a chocolate pecan crust, topped with fresh red raspberries for an impressive, decadent and unexpectedly easy dessert.
Marshmallow Brownie bars

These rich, fudgy Marshmallow Brownies bars have three layers to love! Homemade chocolate brownies topped with gooey marshmallows and creamy chocolate frosting.
Smores

This American classic is everyone's favorite childhood treat!  There is no "right" way to make Smores.  Anyway you like it, it is the right way. 
Gulmarg Infused Badam Halwa

This badam halwa recipe infused with our Gulmarg tea will make for one of the best almond halwa. It will surely remind you of the badam halwa that one finds in the sweet shops of South India!