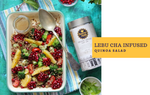 Ingredients
For Salad:
½ cup uncooked quinoa

2 tsp Lebu Cha (Lemon Tea Leaves)

½ tsp salt

1 tsp sugar or any sweetener of your choice

10 – 12 sweet lime segments

8 – 10 cherry tomatoes, sliced in halves

1 small cucumber, washed & chopped or cut in halved roundels

1 cup florets, cooked broccoli (steamed or boiled with some salt)

Arils of half a small pomegranate

A few mint leaves
For Dressing:
2 limes, juiced

2 – 3 tbsp agave nectar (adjust to taste)

1 tbsp extra virgin olive oil

¼ tsp ground black pepper (add more if required)

1 red chili, finely chopped

Salt to taste

Mix all ingredients of the dressing well

Taste and adjust the ratio of ingredients to suit your taste

Set aside
Method
Rinse the quinoa (gently rub it while washing) in water two to three times and drain the water. Set aside.

Place a saucepan on high heat and immediately add one cup of water along with sugar. Bring water to boil and switch off the heat.

Add the tea leaves and cover the pot. Allow the tea leaves to steep for two minutes (or three minutes to intensify the flavors more). Sieve the contents. Discard the tea leaves and reserve the tea liquid.

Put the tea liquid back in the saucepan and place it on high heat again and bring it to boil. Immediately, add the quinoa along with salt and allow it to come to a boil again. Reduce heat to minimum and cover the saucepan.

Cook the quinoa for 15 minutes (stir and check after 10 minutes to check if it's done) or cook according to the instructions given on the pack.

Switch off the heat & remove the pot from heat. Allow the quinoa to cool down. Fluff it with a fork.

Mix everything and toss it well. Add seasoning and gently toss again.

Divide the salad into equal portions of three or four and garnish with mint leaves.

Serve immediately and enjoy!