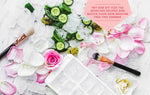 Who says that the only way to get dewy fresh skin is by drinking green tea! Our iced tea fruit blends will sort out your summer CTS (cleanse-tone-scrub) routine in under 5 minutes.
The importance of fresh fruits in our diet is known to us. From oranges to watermelons, each of them comes with several unique benefits as they are packed with essential nutrients, vitamins and antioxidants to keep us healthy. While tea is a delightful refresher for our senses, it has benefits for the skin as well. 
The combination of tea and fruits can do wonders for the skin. Here's how:
Fruit teas are known to hydrate your skin

Fruit teas may help fight acne 

Fruit teas may help reduce uneven tan

Fruit teas may help improve blood circulation 

Fruit teas are packed with antioxidants that are known to keep the heart healthy 
Here are some really quick DIY summer skincare rituals featuring our iced tea blends for your CTS routine: cleanse, tone, scrub, that you can whip up in less than 5 minutes. 
Tea-based fruity cleanser for summer skincare

 
This fruity cleanser featuring tea is an all time favourite hack to wash away all the dirt and impurities that build up on your face at the end of the day spent outdoors or commuting to work. 
Cleansing is a very important step towards getting clean, healthy, glowing skin. Facial cleansers help rid your skin of dust, dirt, and old skin cells, as well as cosmetics and chemicals, preventing acne in the process. Our DIY cleanser featuring fruit-based iced tea is easy to make, apply and wash off.
Here's the cleanser recipe featuring tea: 
Brew 2 tbsp of your favourite fruit-based iced tea. Allow it to cool.  

In a small bowl, take 1 tbsp organic honey and add it to the iced tea brew. Mix well.

Apply this watery solution to your face. Gently massage your face for 2 minutes using upwards strokes along your neck, chin, forehead, cheeks, nose, and lips. 

Rinse your face thoroughly with water and gently pat your face dry with a soft towel.
Tea-based toner for summer skincare
Skin toners are saviours, especially if you have acne-prone skin. Natural toners helps minimize skin pores and lends it a smoother, polished look. Toners also help protect the skin from harsh summer sun and dirt and locks in the moisture on the surface, keeping your skin hydrated.
Apply this iced tea-infused toner first thing in the morning to feel rejuvenated. 
Here's the toner recipe featuring tea: 
Mix the fruity tea and water 
Add some tea tree oil or aloe vera (this is optional) 
Spray it all over your face to hydrate and refresh your skin. 
Alternatively, you can use it as an ice cube and gently apply it on your skin. 
Store this skincare blend in a spray bottle and keep it in the fridge. You can reuse this once more.
Tea-based facial scrub for summer skincare
Scrubbing your face once a week yields glowing, dewy skin. Scrubbing helps slough off grime, dead cells and dirt, and gets your blood circulating under your skin. This skincare scrub recipe features sugar and our fruit-based iced tea. Sugar exfoliates and smoothens the skin, and the tea helps reduce redness and irritation and locks in the moisture. Feel refreshed in 5 minutes! 
Here's the exfoliating scrub recipe featuring tea:
Brew 2 tbsp of your favorite iced tea fruit blend. Allow it to cool.
In a small bowl, add 2 tbsp sugar and the brewed tea. Mix well with a spoon. 
Add a bit more sugar to get the texture if you would like a coarse scrub. 
Use your fingers to scoop up this solution and rub it evenly all over the face, including the lips, nose, forehead, and chin.
Use cotton balls or a soft textured towel to wipe off your face. Wash with water and pat dry. 
Apply moisturizing cream as per your preference to seal in the moisture. 
Here are our recommendations for iced tea blends that can be used for your summer skincare rituals:
Lychee & Rose Iced Green Tea: Lychee, apart from its sweet and luscious flavour, is a superfood that's packed with nutrients, minerals and vitamins required for the production of blood. Bonus? It's high in dietary fibre, so it's known as a digestive aid and for keeping your system clean! Rose is known for its astringent properties. It helps improve blood circulation, reduces blemishes, and promotes healthy, glowing skin. 
Peach and Jasmine Iced Green Tea: Peach is a common ingredient in anti-aging face masks and creams as it's loaded with Vitamin C and antibacterial properties, both of which help keep the face free of acne and boost the skin's vitality. The tea is loaded with antioxidants, known for their digestive properties and for keeping the heart healthy.
Passion fruit Iced Tea: Passion fruit contains Vitamin C and Vitamin A, both known for their ability to slow down aging! Passion fruit also helps the skin to retain moisture and improve blood flow.
Go ahead, keep your skin healthy and hydrated during the hot summer days. Let us know in the comments about tried-and-tested summer special skincare rituals featuring teas that you swear by. 
WARNING: This blog is not meant as medical advice for skincare treatment. Please consult your doctor or dermatologist before trying this on your skin.