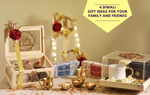 Diwali is that time of the year when family, friends, and dear ones, get together and celebrate the festival. It is the season to spread warmth, love, and positivity with those around you and acknowledging their place in your lives. There is no better way to make your loved ones feel special than by giving them thoughtful and memorable gifts during this festive season. 
In the spirit of the festivities, we have compiled a shortlist of unique gifts that are perfect for this Diwali. We understand that finding the right gift is hard but we are here to simplify it for you.  
Gadgets - In this era of digital revolution, one can never go wrong with gadgets. Be it the latest smartphone or a laptop or even a smart-watch, all of us appreciate how convenient our lives have been made by technology. Gift vouchers from gadget stores are a very good idea as they entail flexibility. The thing with gadgets is that their utility lasts for years and is extremely memorable.

Source - BP Guide India




Personalized items - Personalized gifts are all the rage and it seems like this trend is here to stay. These gifts indicate that time, effort and care was taken to procure them and are a reflection of thoughtfulness. They can be very simple like monogrammed cushions, napkins, backpacks, or just phone covers, mugs, posters and so on. Wine glasses etched with messages and photo frames work very well too. A huge advantage of personalized gifts is that they are always unique.

Source - My Flower Tree




Tea Gifts - Straying from the traditional gifts, Karma Kettle's wide selection of teas and tisanes are a great option as they stand out and are unique. From meticulously assorted hampers, to individual tins, the possibilities are endless. Additionally, there is the option to curate your own tea box to cater to different preferences and tastes. One can even add a personal touch by writing a personalized note or message. So this Diwali, select from or design your own gift set and gift your loved ones a healthy habit for life. Get creative!






Decorative items- Last but not least, decorative items are a great Diwali gift idea. As Diwali comes nearer, our houses are thoroughly cleaned, re-painted and a whole fresh new look is obtained. Supplementing the new look with attractive and stylish decorative items is a good option. Lamps, handmade diyas, scented candles, candleholders and silverware are some of the possible choices. It will serve as a reminder or a token of your love and affection and make it a memorable gift.



What are you waiting for? Diwali will be here in a flash! Get cracking.