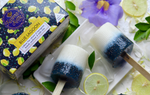 How to make tea popsicles
Even though tea popsicles are chiefly a summer treat, one can consume them year-round. All of us rustle up recipes over the weekend or have one friend who loves their tropical popsicles!
These are absolutely easy to make. Here is a Blue Lagoon Chia Popsicle iced-tea popsicle recipe with our bestseller blend, Blue Lagoon
Blue Lagoon Chia Popsicle 
 INGREDIENTS
250 ml coconut milk

300 ml hot water

3tbsp chia seeds

1 Blue Lagoon tea bag

1tbsp powdered sugar

1tbsp honey (optional)
INSTRUCTIONS 
Make the tea first. Boil 300ml water and dip the Blue Lagoon tea bag till the water turns completely blue. You can add honey (optional).



Let the tea cool down completely.
Add Chia seeds to the tea, mix well and keep aside for 20 minutes.
In another cup, mix the coconut milk and powdered sugar.


Fill the moulds with the sweetened milk and freeze for 2 hours.


Insert the popsicle sticks inside the moulds after 2 hours. Freeze for an hour.


After 1 hour, pour the Blue Lagoon Chia tea mixture in the moulds, on top of the coconut milk and freeze for another 3 hours.



In 3 hours, remove the popsicles from the mould. They are now ready to be savoured!