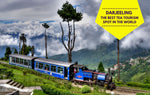 The Fabulous Five
Archibald Campbell, a civil surgeon of the Bengal Medical Service who was posted as Superintendent of the sanatorium town of Darjeeling from 1841, was also a keen botanist. He brought in tea seeds of the Chinese variety to the Darjeeling-Terai region and started planting them on an experimental basis.
In the mid-1850s, Robert Fortune of the East India Company brought in plants and tea experts from China and established the first commercial tea estates in Darjeeling.
Others followed and founded estates, some of which are still producing the best Darjeeling teas relished by connoisseurs all over the world for their heady floral aroma and sweet taste.
Many tea gardens in Darjeeling today offer tourists a taste of plantation life, which usually includes staying in a colonial bungalow, watching workers pluck the tea leaves, learning about tea processing in the factory, and tasting freshly manufactured tea.
Here are five of the oldest tea estates, which are favorite tea tourism destinations:
Puttabong ("house of green leaves") tea estate is believed to have been established in 1852 by Dr. Archibald Campbell himself. It produces its own vermicompost and herbal fertilizers to grow organic tea. Visitors can taste Puttabong's famous light muscatels, handmade blends, and silver tippy teas – the most popular being the Puttabong Clonal Queen and Puttabong Supreme. The estate fetched a record price of Rs.10,001/- per kg for its Antique Tea in 1992.
Makaibari, established in 1859, follows biodynamic and permaculture practices to grow tea organically. It has also preserved two acres of primary sub-tropical forest within its boundaries, which visitors can explore. Tasting the cream of the Makaibari teas – the Summer Solstice Muscatel, Darjoolong, Bai Mu Dan (Darjeeling Peony White Tea), Pearl White Tea, and Silver Green – which are some of the most sought-after Darjeeling teas, is part of the experience.
Dating back to 1860, Glenburn is perched on a hillock overlooking the Rungeet River. Tea tourists visit Glenburn for its beautiful location and to experience the "gracious living" associated with tea life. The estate produces some of the best black and green Darjeeling teas, with an attractive floral scent and malty aftertaste. Finest among these is the light but complex Glenburn King Vahdam Tea – sweet, flowery, and grapes'grapes' flavor.
Singtom, established in 1862, is popular with tourists. It offers a breathtaking view of the Kanchenjunga, a tour of the estate and factory, and a tea tasting session. The tea served at the Resort is from the estate's premium artisanal brand, Chai & Mighty.
Okayti (formerly Rangdoo) estate, nestling in a forest above the Mechi river in the Mirik Valley, was established in 1870. When this tea was served at Buckingham Palace in 1880, it was declared an "okay tea" which became "Okayti"! The estate produces black and green teas renowned for its perfect balance of astringency and body. Their white tea has a light aromatic sweetness with delicate undertones of citrus fruits, dried fruit, and nuts.