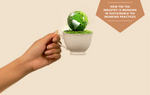 Most of us cannot imagine a day without a hot cuppa. We like a steaming cup of tea each morning before we head to work. Some of us like a cup in the afternoon to help us get through the day. And many like a cup to relax and unwind before they wrap up their day and go to bed.
The point is, often we're in a rush and we need to prepare our tea quickly because our mind is occupied by our day to day comings and goings. What do we do when we're in a rush? We pick out one of the many flavourful tea bags we've got in our shelves and pop one into a cup of hot water. And we have our tea ready to go. It takes little effort and next to no time.
But have you ever wondered how the tea industry is working towards creating a sustainable, climate friendly and pesticide free ecosystem? For instance, even though the teabags feel like they're made of paper, why are they able to retain their structure in hot water? Surely if it were made of paper it would fall apart?
The answer to that question lies in the composition of these ordinary teabags. In order to ensure that the teabags retain their shape in hot liquid, they're made up of a plastic polymer called polypropylene, or an epoxy resin called epichlorohydrin. This makes them very bad for the environment as they contain elements which are detrimental for the ecosystem in the long run. Additionally, due to the plastic content of these teabags, they cannot completely decompose.
Secondly, how the tea industry, with a projected worldwide consumption volume of 3.36 million tonnes by 2021 is experiencing a paradigm shift that is socially just and environmentally sustainable.
Well, It is now, more than ever, that sustainability is a need of the hour. With increasing population, consumption, and creation of goods and services, there is a dire need for measures to address this critical issue. India being the second most populous country in the world, has a very high rate of consumption. It becomes the responsibility of businesses then to incorporate methods to reduce their environmental impact and of the consumers to invest in goods and services which are eco-friendly in nature. This can range from directly sourcing the fresh tea leaves from the estate and omitting the presence of third parties, preparing small batches to prevent wastage and bringing in packaging that is renewable, sustainable and that can be upcycled. Tea leaves are also being reused as manure and fertilizer for plants.
While this is an enormous industry shift, the contribution by small businesses is huge too! So, what are some ways that small businesses can bring change in the fight for sustainability?
Biodegradable packaging is one of the steps small businesses can take to become more environmentally friendly. Ensuring that you source your goods from local suppliers to support the local economy and that employees are paid fair and livable wages is another crucial step. And finally, making sure that the materials your goods are made up of, are renewable, biodegradable materials so that they have minimal impact on the environment.
As a growing business ourselves, each member of the Karma Kettle family realises the significance of our actions. Our goal is not only to become drivers of change but to also drive conversation, raise awareness, and inspire businesses around us to become environmentally conscious. Yes, our primary mission is to have a positive impact on the body, mind and spirit of tea aficionados and to spread the rich culture and history of the art of tea with the world. But in a much larger sense, we seek to have a positive impact on the environment as well. This ethos converts to action in five ways-
We partner largely with single tea estates and small plantations, which is where we source our teas. We aim to support the livelihood of small farmers operating in the tea valleys of Assam, Darjeeling, Sikkim, Meghalaya, and Nagaland. Our latest eco-friendly pouches are handwoven by women in West Bengal
We support organically-cultivated tea plantations to source organic tea leaves. In 2018, we launched our first set of USDA, NOP, and ECOCERT France-certified organic tea blends to contribute towards the good fight against climate change
We also actively encourage 'slow consumption'. Slow consumption is moving away from faster and environment-damaging production cycles. We do this by releasing small batch teas
Another important initiative is to eliminate the use of plastic for packaging the tea cartons and incorporate 100% compostable solutions. We have begun the transition to biodegradable pyramid tea bags
Coming back to the subject of teabags and the harm they cause us with regards to our physical health as well as our environmental impact, what is a possible solution? Muslin Tea bags. Why Muslin Tea bags?
Muslin tea bags are eco-friendly: Muslin Tea bags are made from 100% natural unbleached cotton fabric. This helps us keep our environment free of plastic and encourages us to reuse the bags a few times before we dispose of them.

Muslin tea bags are reusable- These tea bags are washable and reusable. It's an inexpensive, environmentally-friendly method of drinking your loose lead and herbals.

Muslin tea bags are unbleached and staple-free- These special tea bags are also unbleached, meaning they are 100% chlorine-free and no plastics and staple are used. This makes it non-toxic and suitable for brewing with steaming hot water.
Muslin tea bags are a major step in the right direction when it comes to adopting sustainability. At Karma Kettle, we're very serious about the changes that we're trying to make and we hope it inspires other budding businesses like us to join the fight as well as consumers to become conscious of the products they use and support.