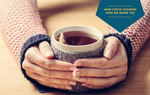 Written by Aravinda Anantharaman
Two things happened with the arrival of COVID - we were staying in more, and therefore making and drinking more tea at home (those amongst us who drink tea), and two, immunity-supporting foods and beverages looked more attractive than they have ever been
With out-of-home consumption dropping, but in home consumption going up, it looks like tea drinkers took a little more trouble over their tea, a little more time selecting teas carefully, brewing it in many ways, and allowing tea time to become a little more enjoyable. Not surprisingly, online stores began to see a greater volume of sales. It also prompted several tea producers to embrace digital platforms to engage consumers in conversation. While this doesn't offer a significant sales channel, the insights it brings and conversations have been a first. I do think it has allowed consumers and producers or consumers and brands to have real conversations and understand each other a little better. 
The other thing that happened — that is probably here to stay — is how products that would help build immunity came into focus. Marketers pitched various products even as consumers happily adopted them. A Research and Markets study showed that over 40% of consumers have been buying more food and beverage products to help boost immunity. And tea, as a beverage that was already being promoted and marketed as a healthy choice, found itself in the spotlight.
In particular, green tea which in the last decade or so had already supplanted black tea as a better choice, got a boost. As 'immunity' grew increasingly attractive, tea brands too responded with their offerings. Many use green tea as a base but alongside that, we are seeing a growing range of herbal teas or tisanes. Botanicals like turmeric, moringa, ginger, ashwagandha have become very popular. Combinations of these have led to more options, more flavours, giving something for every palate. What's more, the central ministry of Ayush (Ayurveda, Yoga & Naturopathy, Unani, Siddha and Homoeopathy) offered a recipe for immunity-strengthening blends that uses tulsi, ginger, cinnamon and black pepper.
Perhaps these blends are a contemporary version of the kadha or kashayam that were once made in our kitchens as home remedies. They offer convenience, and are also made to be palatable. Easy to brew, and easier to drink.
Do these actually help, is not a question many are stopping to ask. Maybe because traditional medicine has always made a case for botanicals in warding off infections. The efficacy of some of these, like ashwagandha, also comes supported by clinical studies. So it could be a case of rediscovering traditional recipes.
But then again, health has always played a part in how tea has been marketed. Even at the time of the East India Company. Cultural anthropologist Sarah Besky, in her book Tasting Qualities, wrote about how when the Company marketed its 'Empire Tea' back in the 19th century, sellers of Chinese tea retaliated by taking on the tannins in Empire Tea, blaming it for constipation and indigestion. To refute these claims, the Company funded several experiments on tea tannins for an extensive period, from the late 1800s through the 1930s. By the end of the 1930s, tea was being promoted for its beneficial aspects, particularly if taken with milk (for nutrition) and sugar (for energy).
If the pandemic has changed how we perceive tea, it's to place it as a lifestyle choice, as a healthy option, as a plant food, as a versatile carrier of flavours, as one that can be personalised to suit individual preferences, as a catalyst to promote a sense of well being in our days.
Aravinda Anantharaman is a writer, columnist and partner at Copac Media. 
Tea is her preferred choice of beverage and a source of inspiration for many of her stories.


Aravinda Anantharaman 
Co-Founder/ Partner 
Copac Media LLP
Bangalore, India.