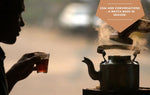 Tea. Our day doesn't start without a cup of tea. So much so, that Bollywood movies have often started a scene with the main character sipping on a cuppa at their verandah as the mellow sun shines in the background.
Before the Covid-19 pandemic and associated lockdowns, the tea stalls or tapris were people's adda spots (gossip or chatting spots). Even strangers bonded like childhood friends over several cups, biscuits and stories in those tiny stalls. 
These bonding sessions are not limited to tea stalls alone. In our country, guests at home are given tea as a welcome ritual. Tea acts as a great conversation starter, it adds fuel to the fire of family discussions and generational stories, something that has increased immensely as a result of the lockdown. While everyone felt " stuck" in the monotony, facing challenges and fighting one battle at a time, tea became the mood lifter and many of us looked forward to the warm, spicy evening chai accompanied with pakode where the entire family would be in one room after all those tiring work from home routines. 
As Letitia Baldrige rightly said, "Tea time is a chance to slow down, pull back and appreciate our surroundings". Tea holds a vital place in movies and series! It is also a beverage that unifies those who catch up with their friends on topics of art, culture and politics and bring in several worldviews and assumptions to the table. We analysed and tried decoding this affair of the heart and came up with a few situations where two of them cannot be separated at all!
Festive Addas: The word "adda" has become so popular that it has earned a place in the Oxford dictionary, defining it as "a place where people gather for conversation". Whether it's Ganesh Chathurthi in Bombay or Durga Puja in Calcutta, India is big on festivals, and festivals call for get-togethers with our next of kin, many of whom we barely meet once a year. How can we not have tea on such occasions?
The Brainstorming catalyst: People often come up with groundbreaking ideas during an intense brainstorming session over a cup of tea! An advertiser once told us that he and his friends were exhausted after an active ideation session at the office so they went for a tea break. One sip and voila, a running train of thoughts came in. Of all the great things our favourite warm beverage could do, tea and great ideas are always a win-win!
Call for romance: "A lot can happen over coffee", sure, but imagine all the long evenings you can spend sipping on good tea and talking about everything under the sun with your loved one as time flies in a jiffy. Besides, tea is an excellent gift and is a great alternative to the traditional box of chocolates. The latest advertisement by a leading dairy company even captures the chemistry between a newly web husband and wife and how they break the ice with a cup of morning tea.
Getaway from College classes: A cup of chai in between classes with our buddies? We have all been there. One tapri chai and some snacks are all that is required to rejuvenate in between lectures in college.
Political discussions: Ten years ago, it was about how Maradona played fiercely for Argentina. Today it is about how Manchester United and Liverpool performed. Groups of young and middle-aged men get their daily dose of political banter and football statistics right with some chai. Politics, tea, and conversations are the holy trinity for such diverse discussions. These conversations just cannot take place without tea!
Tea and new media: 2020 changed a lot of things, including our channel of communication. While we were immersed in the virtual world, we noticed how tea was talked about in several movies and all those tea memes that came up. We enjoyed The Mad Hatter's unconventional tea party and the infamous "hello friends, chai peelo" meme.
Be it office gossip over tea or catching up with friends, a cup of tea always adds a special touch to our conversations. There is something about the warmth of a full mug of tea held in our hands that makes us open up and share our thoughts.