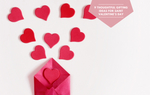 Valentine's Day is all along the way. Love and romance are in the air to tussle every love bird! 
How about making your loved ones feel glee with some creative valentines gifts? Choosing gifts for someone you love is quite a challenging task. But with the right mind to express your love to them will make you find the perfect one. Here is a list of some thoughtful gift ideas to be considered on V-Day. Scroll down till the end and get inspired to make your love amazed. 
Flowers are now, but plants are forever


Plants are the perfect way to show someone you are thinking of them. Giving a live plant communicates so well and so much––you care about their health, their happiness, and the planet you both share. It's one of the most hardy and sustainable gifts you can find! 
Luscious bakes


Surprise your loved one with a delicious chocolate truffle cake and add sweetness to your relationship!
A Calendar full of cherished memories


Pictures of loved ones are an instant source of joy. Structuring your daily life around them with a customized calendar filled with pages of your favorite memories is a great way to fill each day with more gratitude and happiness.
Sip away to floral and chocolate infused teas


Quench the tea lover in your partner with Karma Kettle's Valentines special teas. These teas speak the language of love using romantic ingredients such as rose, lavender and chocolate. 
Maya (Black tea with chocolates & cranberries)
Birdsong (Silver tips white tea with lavender & cockscomb)
Candles 


While a bright bouquet of flowers or decadent box of chocolates can make timeless Valentine's Day gifts year after year, the most romantic among us know that pulling off a successful special day celebration is really determined by how well the mood is set. Candles are an instant mood lifter and they can just never go out of style! Gifting your loved one a box full of well curated scented candles will remind them of you every time they light them.
Customized mugs & pillows


Even with small gifts, you can make your partner happy.  The best gifts are those which are given with lots of affection, love, and respect. Buy something that comes with strong emotional value. Customized photo cushions or sketch art coffee mug with an emotional gesture are perfect valentine's day gifts! 
Coupons for a spa center


If you are the kind of couple who enjoys spending a lot of time together, but seldom get the chance to do it because of the hectic city life, with demanding jobs and tight schedules, then a relaxing treatment at a spa center is just what you need. You and your partner can get the rest that you deserve and recharge your batteries.
Puzzle Picture


Choose a picture that captures one of your first or finest moments together—the two of you enjoying your first beach vacation together, posing gleefully after exchanging rings or standing hand in hand under the Eiffel tower! —and have it printed out and turned into a puzzle. 
Create a scent just for your partner


Perfumes are an excellent gift choice, but they often lack personal touch. For the utmost sensuous experience, you can create a brand new aroma specifically for your darling, using a number of distinct scents and combining them into a unique fragrance. For an extra touch, you can get a glass perfume bottle engraved with your partner's name and voila!