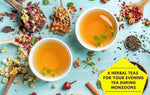 Are you a pluviophile? Someone who loves rain and enjoys the monsoon season like it's an emotion. From the rain pattering on your window to the damp yet sweet earthy smell in the air and reading a good book with a steaming hot cup of tea and pakoras plate in your hands. It is an experience. However, this indulgence of deep-fried pakoras and sugar-loaded cups of milk tea can be detrimental to our immunity and well-being. To make this monsoon season enjoyable and yet healthy, we recommend switching over to herbal teas.
Herbal teas have always been a popular beverage both for their flavour and their numerous health benefits. Also known as Tisanes, Herbal teas are essentially infusions of plant parts like the tree bark, flowers, leaves, roots, spices, seeds, and fruit.
Explore these six different herbal teas to spice up your evening tea sessions and make them wholesome and health-conscious. After all, what's better than an aromatic, flavourful, and healthy cup of tea in these rainy evenings!
Chamomile Tea: Known for its ancient healing potency, the Chamomile Tea helps to energize the body and calm the mind so that you can be focused and productive during these testing times. This pretty flower is a natural sleep remedy for the soothing effect. Did you know the Chamomile flowers from western Asia were called German Chamomile, and unsurprisingly, and it was used in making beer! At Karma Kettle, we have an exclusive variation of the Chamomile Tea called 'Bliss' which is a rich infusion of the Chamomile flowers and lemongrass leaves. The medicinal properties of Chamomile and the Citrus notes of Lemongrass make it a thoroughly enjoyable drink.
Rhododendron Tea: Made from Rhododendron petals, this tea is widely acclaimed for its captivating fragrance, as well as medicinal properties. In fact, Rhododendron flowers and leaves are widely used in the Himalayas, to improve digestive health and to stimulate the appetite. Our caffeine-free, floral tea- 'Nathula' is a delicious blend of Rhododendron, Tulsi and Calendula flowers. Calendula provides some relief from sore throat and also helps with the treatment of stomach and duodenal ulcers. The distinct flavours of Tulsi and the mild tones of Rhododendron make this tea blend a rich and tasty beverage.
Lavender Tea: Lavender Tea boasts a distinctive flavour and aromatic fragrance. This light and fresh drink, with hints of green apple and rose, is a treat to have. It is also used extensively for its therapeutic properties, that is, inducing better quality sleep, de-stressing and calming the mind. Interestingly, lavender was used by ancient Greeks to treat insomnia and ease back pain. The mild, lingering sweet taste of lavender make it a delicious drink that will rejuvenate your body. At Karma Kettle, an aromatic herbal tisane of lavender, seabuckthorn, and nettle leaves is blended to create the perfect de-stress tea. Try it today!


Kashmiri Kahwa Tea: This exotic super-drink is a combination of taste, aroma and health benefits. It is a tribute to the beauty of Kashmir, the paradise of mountain lakes, pine forests, and snow-clad peaks. Some of its incredible health benefits are that it builds immunity, acts as a stressbuster, as well as an energy booster. In fact, there are no less than 36 assortments of Kahwa tea, each with its own unmistakable flavour. Our premium blend 'Gulmarg' is made up of emerald green tea, toasted almond silvers, cardamom, cinnamon, safflower petals, apricot bits, and saffron.
Peppermint Tea: Peppermint tea is a popular herbal tea that helps in fighting headaches, migraines, and also in unclogging sinuses. In addition, it helps to fight bad breath and aids better quality sleep. The menthol in the peppermint makes the tea taste minty and mildly sweet, leaving a cooling sensation in the mouth. It is a very light and refreshing drink to have. In fact, such is the vitality of Peppermint that it has been used in Eastern and Western traditional medicine to help with sore throats, cramps, and nausea. Taking inspiration from the Morrocan mint tea, Karma Kettle presents their own version of the peppermint and spearmint tea.
Green Tea: The benefits of Green Tea are very well documented. When used in combination with a healthy diet and exercise, green tea can supplement weight loss or fat reduction. Moreover, it contains antioxidants and helps in improving the functioning of the brain. Green Tea also has a low caffeine level. When blended with Tulsi and Ginger, it becomes the elixir for good health. Buy today!
Spend your monsoon evenings doing what you love and at the same time looking after yourself and your loved ones.
Check out the Tea Recipes for some delicious, nutrient-packed recipes and make your evenings stress-free and soothing.