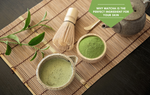 Over the past few years Matcha tea has developed a dedicated fan base across the world. With everyone coming up with innovative ways to make this tea a part of their lives, we've seen all sorts of Matcha shots, lattes, and even desserts coming up. Now the primary reason for the popularity of this tea is simple: the health benefits and medicinal properties it has. There's plenty of information out there on the wonders that high grade Matcha tea can do for us- boosting brain function, promoting weight loss, high antioxidant levels to name a few. But did you also know that Matcha can be made a part of your skincare routine? That's right! You can do more than just drink or eat Matcha.

Today we are sharing with you five simple but brilliant ways you can include Matcha in your skincare routine.
       

Improve skin tone- Add two teaspoons of Matcha powder to rosewater and get a paste-like consistency. Then add a few drops of Lavender essential oil to the paste. All you need to do is apply this mixture on your face and neck and leave it on for 15-20 minutes. Rinse it off to reveal bright, glowing, nourished skin.




       

Moisturisation of skin- Add two tablespoons of premium Matcha powder to a bowl and pour some milk to form a paste. Add half a teaspoon of honey to the mixture and stir till you get a smooth consistency. Similar to the last process, apply this mixture to your neck, face, and upper-chest area and let it stay for about 15 minutes. Rinse clean with plain water. This will help prevent skin dryness and also soothe irritated skin.




       

Body lotion- This is for days where you really want to pamper yourself. This is a DIY Remedy made using Matcha powder and Shea Butter. You can also add any skin-nourishing oils that will help soothe the skin and keep it hydrated. This will slow down aging and also improve your overall skin health. After making the mixture, you can apply it all over your body like you would with any lotion.




       

Exfoliation- Add two teaspoons of Matcha powder mixed with one teaspoon of ground coffee beans in a bowl. Then add some yogurt to the bowl to form a paste. Next, blend this concoction properly to create a uniform consistency. After applying this on your face, leave it on for a few minutes before gently scrubbing your skin using gentle strokes. And voila! Rinse with plain water and pat dry with a towel. This DIY Scrub will remove dirt and dead skin cells from your face and give it a soft glow.




       

Better skin texture- For firmer, better skin, you can make a mask using two teaspoons of Matcha powder mixed with one teaspoon of either coconut or argan oil. Next, add a teaspoon of rose essential oil. Mix the paste well and apply it to your face and neck area. Once 15 minutes have passed, gently massage your skin and wipe off the mask. Finally, rinse with some cool water. Doing this twice a week will revive your tired skin and remove fine lines.


Lastly, remember to check for allergies before making these DIY masks and packs. Basic etiquette like using clean, high quality ingredients must also be ensured. Feel free to substitute any ingredients that you feel are not suiting you. Take your skincare routine to the next level with Matcha!