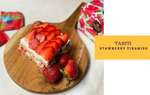 Ingredients:
250g (2 cups) plain flour

½ tsp baking powder

½ tsp salt

120 g (1/2 cup) unsalted butter

100 g (1/2 cup) sugar

125 ml (1/2 cup) milk + 1tbsp vinegar

1 tsp vanilla

Superfine sugar for sprinkling fillings

200 g (1 cup) whipping cream

70 g (1/2 cup) powdered sugar (avoid if using sweetened whipping cream)

150 g mascarpone cheese

25 g caster sugar

1 tsp vanilla extract

450 ml water

200 g fresh strawberries

3 Tahiti tea bags (Cockscomb flower, hibiscus flower, strawberry flavour crystal and liquid)
Method:
For ladyfingers biscuits (Eggless):
Preheat the oven to 180˚C (160˚C Fan/350˚F). Lay the baking pan with parchment paper.

Sift the flour and baking powder. Beat butter and sugar until light and creamy.

Add the vanilla, buttermilk and flour and lightly beat to mix in.

Spoon into a piping bag and pipe out 3" long fingers.

Bake in the oven for 10-12 minutes.

As soon as you take them out, sprinkle some caster sugar on them
For the fillings:
Add the whipping cream in a large bowl. Whip or beat it until stiff peaks form.

In another large bowl, add in the mascarpone. Beat it so that it's creamy and soft. Add in the sugar gradually. Continue mixing it until well combined. Set it aside

Fold in the chilled whipped cream into the mascarpone cheese. Add vanilla and fold





For the tea:

Make tea according to packet instructions and chill completely




Assembling the cake:
Pour the tea into a plate. Dip the ladyfingers into the tea. Once it's fully soaked, transfer it onto the pan. Lay them nicely so that the bottom of the pan is covered.

Pour the cream mixture onto the first layer of ladyfingers. Level the surface with a spatula. Spread strawberry slices.

Repeat the previous two steps for another layer.

Once the layers have been achieved, refrigerate the cake for at least 4 hours or overnight for best results.

Spread strawberry slices on the cake and serve.