Tea Recipes — matcha green tea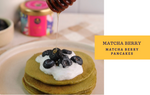 Yummy and fluffy pancakes with the amazing flavour of matcha berry! Ingredients-1 cup of flour 1 tbsp of berry matcha 1 tbsp baking powder 1 tbsp sugar 1 cup buttermilk Instructions- In a bowl, add 1 cup flour, 1 tbsp of berry matcha, 1 tbsp baking powder, 1 tbsp sugar and 1 cup buttermilk, and mix it well. Pour the batter into a pan and prepare your pancakes Garnish the pancakes with your favourite toppings and enjoy!
---
This easy and yummy Matcha cake is all you need for a healthy dessert!
---
I scream, you scream, we all scream for some MATCHA ice-cream!
Recent Articles
Categories