Tea Recipes — #tea
Give this Italian dessert a twist with some Earl Grey tea. Looks and tastes absolutely delish!
---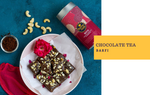 Get rid of your chocolate cravings with this unique and delicious chocolate tea barfi recipe. Rich, indulgent and creamy, this recipe is bound to be an instant hit amongst loved ones.
---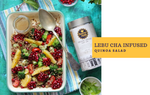 Lebu Cha Quinoa- Quick, easy and very nutritious, the Lebu Cha Quinoa Salad is a fantastic recipe for those on the go. Whip up this hassle-free salad when hunger strikes and make the healthy choice. The Lebu Cha notes are a delicious addition. 
Recent Articles
Categories