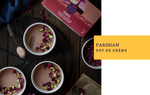 Ingredients:
3/4 cup or 180 gms heavy cream

1/4 cup or 60 gms milk

2 Paris tea bags (Oolong tea, rose buds, rose petals)

1/4 tsp rose water

4 egg yolks

1/4 cup or 55 gms caster sugar

A pinch of salt

A small drop of pink food colour (optional)

A few pistachios for garnishing
Method:
Preheat the oven to 160-degree celsius.

Heat the heavy cream and milk on low heat. Switch off the gas.

Add the Paris tea bags and rose water to the cream mixture and let it infuse.

Separate egg yolks in a bowl and add the caster sugar and a pinch of salt. Whisk it till it turns pale which means air is incorporated in the mixture.

Slowly and carefully pour warm cream mixture to the egg and sugar mixture and keep whisking it constantly until smooth. Keep in mind not to add the cream to the eggs together as it can overcook the eggs. Mix in the food colour (optional) and strain the mixture into a pouring jug.

Divide the custard in the ramekins. Place them in a deep oven dish and carefully pour boiling water till it reaches half the length of the ramekins.

Cover with foil and bake for 35-40 minutes.

Let it cool outside for some time & then let it cool in the refrigerator for 4 hours.

Garnish with a few pistachios and serve.