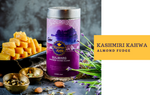 Ingredients:
2 cups Almond Flour

1 tsp Gulmarg Kashmiri Kahwa

1 cup sugar

1/2 cup water

3/4 cup Oil

1 cup Ghee / Clarified Butter
Method:
Boil 1/2 teacup of water and one tsp Karma Kettle's Gulmarg Kashmiri Kahwa tea and boil to make a concoction. Strain and discard the tea leaves and keep the Kahwa liquor aside.

Grease a flat tray with oil or ghee and keep aside.

Sift almond flour and collect in a mixing bowl. Add 1/2 cup of oil along with 2-3 tbsp of Kahwa liquor prepared. Stir and make a smooth batter and keep aside. You can adjust flavour as per your taste.

Heat sugar and water together and boil to make a syrup of one string consistency.

In another pan simultaneously heat ghee with remaining 1/4 cup oil.

Once the syrup is ready add in the flour batter and keep stirring to avoid lumps.

Now add the ghee and oil mix and again stir continuously till the flour combines well and looks smooth and silky.

When the flour starts collecting in the centre, turn off the gas and immediately pour it on the greased tray and gently tap the tray on the counter so that the mix spreads evenly and the bubbles break if any.

Let it cool at room temperature, completely and then cut into squares or diamonds as per your choice and serve.