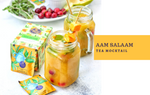 Ingredients:
2 Karma Kettle Aam Salaam tea bags

2 cups water for making tea

3/4 cup 3/4 cup mango puree (puree made of 1 large sized Alphonso mango)

1 tbsp Jaljeera powder OR alternatively Amchur powder can be used

1/2 tbsp lemon juice (OR as required)

1 cup plain/ flavored soda OR Sprite

10-15 mint leaves

6-8 cherries

6-8 ice cubes

Your preference of sweetener/ sugar syrup (as per taste)

2 Sweet lime wedges (optional)
Method:
Cut the mango and seperate the seed in the center from the rest of the fruit. Use the mango pieces to make a smooth paste in a mixer/grinder.

 In a small pot, heat 2 cups of water. Add the tea bags and steep for 7-8 minutes. Remove the tea bags and let it cool down.

In a jug, add the mango puree and Aam Salaam Tea and mix well. 

Then add the lime juice, soda/Sprite, mint leaves, sweet lime wedges and Jaljeera powder. Mix Very well.

Finally top this drink with ice cubes, mint leaves and cherries. 
Recipe Notes
Soda adds the fizz to this mocktail. However, if you don't have or don't want to use plain or flavored soda/Sprite, you can replace it with any other juice of your choice. 

If you don't have Jaljeera powder, you can add Aamchur powder too.

Depending on the sweetness of the types of mango you choose, adjust the sweetner that you wish to add as per your taste.

If you don't want to make mango puree, you can proportionately use mango juice instead.