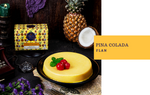 Ingredients
Pina Colada - 3 teabags 

Coconut cream - 1 cup

Condensed milk - 1 cup

Thick yoghurt - 1 cup 

Water - 1/2 cup

Pineapple custard powder - 1 tsp

Melted butter for greasing moulds 
Method 
- Add 3 Pina Colada teabags to 1/2 cup of hot water and let it steep for at least 10 minutes.
- In a bowl add 1 cup of coconut cream, 1 cup of condensed milk, 1 cup of thick yoghurt, 1 tsp of pineapple custard powder, 1/2 cup of Pina Colada tea concentrate and give it a nice mix. 
- Strain this mixture to remove any lumps. 
- Lightly grease moulds with melted butter for easy demoulding and add the mixture to fill 3/4 of the mould. 
- Cover the mould with aluminium foil and steam in a cooker/ steamer on low flame for approximately 20 - 25 minutes.
- Let it rest for about 30 minutes at room temperature and refrigerate it for 3 hours or more. Garnish with your favourite fruits and enjoy it chilled.