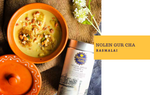 Ingredients:

For Chenna / Cottage cheese
1 litre full fat milk OR whole milk
2-3 tbsp vinegar or lime juice
1 tsp cornstarch OR maida
For cooking Chenna balls/ Cottage cheese balls
1 cup date palm jaggery OR nolen Gur (grated or powdered)
3 cup water
1/2 tsp cardamom powder
1 tsp Karma Kettle Nolen Gura Cha/ Tea leaves
For Karma Kettle Nolen Gur tea & Jaggery syrup/sauce
1 tsp Karma Kettle Nolen Gura Cha/ Tea leaves
1 cup water
1/2 cup date palm jaggery OR nolen Gur grated/powdered
For Rabri
3/4 litre milk
1 pinch saffron
1/2 tsp cardamom powder
10-12 chopped pistachios or almonds (for garnish)
Method:

Making Chenna/ Cottage cheese
Heat the milk in a pan and bring it to boil.
Reduce the flame and add 1 tsp vinegar or lime juice at a time and stir. Repeat the process with remaining lime juice or vinegar till the milk curdles completely and turn off the stove.
Strain it with cheesecloth /muslin cloth and rinse under running water to get rid of any sour taste to go away.
Now wrap the chenna in the cheesecloth /muslin cloth and squeeze out extra water and make a knot. Hang it for about 45 minutes to drain off the excess water.
You can alternatively put it under a heavy object for 15-20 minutes. This is an important step and make sure that the chenna is neither excessive moist or dripping with whey and nor should be too dry.
Making the Chenna balls /Cottage cheese balls
Transfer the Chenna to a plate and knead the chenna with cornstarch by mashing with your hand for at least 3-5 minutes until you get a smooth dough.
The texture after kneading should be non-grainy or your hands become slightly greasy. It will take around 8-10 minutes to get a smooth dough.
Divide the dough into equal portions and make small, round balls. If there are any cracks, roll and smoothen the sides.
Make sure they are no cracks or else they will break while cooking.
Cooking Chenna balls in Jaggery Syrup
Heat water in a wide bottomed pan and add jaggery, Karma Kettle Nolen Gur Cha tea leaves and cardamom powder. Stir well till the jaggery is mixed well.
Bring them together to boil until jaggery melts. The syrup must be of a runny consistency.
Add the chenna balls slowly one by one to the hot bubbling syrup. Cover with a lid and let it cook for 10-11 minutes over high flame.
When you remove the lid, the balls would have increased in size.
Turn off and Remove from flame and keep it covered for 15-20 minutes and soaked in syrup so that they don't deflate. Let them cool down.
Making Karma Kettle Nolen Gur Cha sauce/syrup
Boil 1 cup water and add 1 tsp of Karma Kettle Nolen Gur Cha tea leaves. Add 1/2 cup grated or powdered date palm jaggery OR nolen Gur to this.
Let it cook on medium flame for 5-8 minutes till it has reduced to a thick syrup/sauce like consistency.
Let it cool.
Making Rabri
Pour the milk in a heavy bottom pan and let it boil.
Once the milk has boiled, add saffron and cardamom powder.
Reduce the flame to medium and let it slowly boil while continuously stirring and scraping the sides every 3-4 minutes to ensure the milk doesn't stick to the bottom of the pan.
Keep doing the process till milk thickens and reduces to half the quantity.
Set it aside to cool down.
Add Karma Kettle Nolen Gur Cha sauce/syrup to the Rabri and mix well.
Assembling Nolen Gur Jaggery Tea Rasmalai
Take the chenna balls and squeeze them in between your palms to drain off the excess sugar syrup and add them to a bowl.
Pour the thickened rabri on top of the chenna balls and drizzle some more Karma Kettle Nolen Gur Cha syrup from the top.
Keep in refrigerator for 2-3 hours.
Garnish with chopped pistachios and almonds.
Recipe Notes
Adjust the level of sweetness as per your taste by increasing/decreasing the jaggery sauce being added to the Rabri.
The chenna for making the chenna balls should not be too dry or too moist. If it's too moist, they will break while cooking. If it is too dry chenna balls will turn hard.
Also make sure the Chenna balls don't have any cracks otherwise they will break while cooking.
Do not over knead the chenna, or else the chenna balls will turn too dry and become hard during cooking.
While cooking the chenna balls in syrup, use a big pan with enough space for the balls to move and increase in size.
While making the Rabri, don't add the Nolen gur tea sauce/syrup into hot rabri or the milk might curdle. Let the Rabri cool and only then add the Nolen gur tea sauce/syrup
The syrup in which Chenna balls are cooked should be of a runny consistency. If it becomes thick in between while cooking of the Chenna balls add some water.