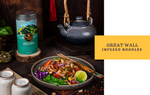 Ingredients:
Karma Kettle Great Wall Longjing Tea - 1 tsp
Creamy Peanut Butter - 1 tsp
Soy Sauce - 1 tsp
Sriracha Sauce - 1 tsp
Noodles - 150 grams
Brown sugar - ½ tsp
Sesame oil - 3 tbsps
Chopped garlic - 2 tbsps
Purple cabbage -  ½ cup
Bok choy - as desired
Green and Red bell peppers - ½ cup
Chilli flakes - ½ tsp
Salt per taste
Lemon wedges on the side
Roasted peanuts for garnishing
Method:
- Boil noodles with a teaspoon of oil till done. Drain, add 1/2 tsp of oil and let it sit.
- Sauce: Add a tsp of Great wall tea to 1/4 cup of hot water and let it brew for 2-3 mins and strain. Add a teaspoon of peanut butter, 1 tsp of soy sauce, 1 tsp of Sriracha sauce and 1/2 tsp of brown sugar, 1/4 cup of Great wall. Heat a tbsp of Seasame Oil for a min and add it to this mixture and give it a nice mix.
- To a wok, add 2 tbps sesame oil and once hot, dunk in 2 tbsps of chopped garlic and stir fry till golden. Add purple cabbage, bok choy and stir fry. Tip in bell peppers and noodles.
- Add the sauce, and give it a nice mix and stir fry on high flame. Sprinkle some chilli flakes and roasted peanuts. Squeeze some lemon juice as desired. Serve hot.