Product Description
Karma Kettle's Nightingale is a musical blend that perfectly pairs premium silver tips white tea to alluring blue peaflower and aromatic jasmine. The resulting brew has a striking soothing blue- violet color .

Tasting Notes
Nightingale silver tips white tea has a beautiful aroma of jasmine on the nose. It brews to a blue colour and has subtle floral and earthy notes in the palate. Finish is sweet and rounded.
Tip: Squeeze a lemon and watch the colour of the brew change to violet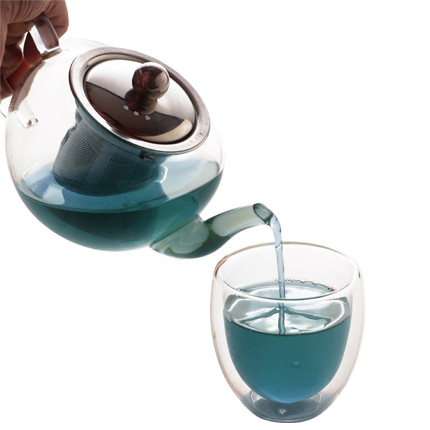 Brew The Perfect Cup
1 teaspoon/2 gms

85°C

3-4 mins

No
Questions & Answers
1. What are the benefits of drinking White tea with blue peaflower and jasmine?
White Tea is low in caffeine and rich in antioxidants. It prevents premature aging of skin and promotes a glowing skin. Butterfly pea flower is a natural diuretic and may regulate blood sugar level. Jasmine is an aromatic flower that is rich in antioxidants and is said to promote a healthy glowing skin. Together they make for a holistic tea blend that positvely impacts your mind and body.
2. Does this tea contain any caffeine?
It contains low amounts of caffeine